Porsche Takes three top IVA in this year's Ideal Vehicle Awards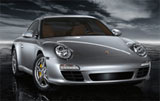 TUSTIN, Calif. (August 16, 2011) – The the 2011 Ideal Vehicle Awards (IVA), announced today by automotive research and consulting firm AutoPacific, reveal the vehicles that most closely match their owners desires. "Everyone has had the experience of wanting to change something after you've bought it and experienced it for awhile. This is especially true of vehicles," says George Peterson, President of AutoPacific.
"This research recognizes the vehicles that owners want to change the least. In other words, the vehicles that already match their owner's demands."
....read more
Arrival: 2011 Porsche Cayenne S Hybrid
From the September, 2011 issue of Motor Trend
By Angus MacKenzie
Photos Brian Brantley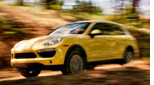 We've started a new evaluation process for our long-term vehicles here at Motor Trend, whereby individual editors will effectively "own" the vehicles for all or most of the time we have them in the fleet. The idea is to improve the quality of our long-term reports, to get beyond what can often boil down to a series of impressions, and get to the nitty-gritty of what it's actually like to live with the vehicle under test.
....read more