of a flat-4 engine with permanent all-wheel drive—a proven success over the years—but this is likely the greatest departure yet from Impreza lineage.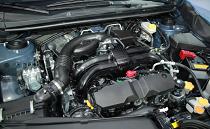 The new all-aluminum engine block shrinks in bore size, but gains some stroke to displace 2.0 liters. With a new dual-cam design and variable intake and exhaust timing, the engine produces 148 bhp at 6200 rpm and 145 lb.-ft. of torque, which peaks at 4200 rpm. You may have noted that this is a decrease from the current Impreza's figures (170 bhp and 170 lb.-ft. of torque), but Subaru claims the new car accelerates quicker to 60 mph by 0.3 seconds.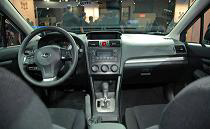 This is credited to a new optional Lineartronic CVT transmission (replacing the outgoing 4-speed auto), the new engine's slightly racier characteristics, as well as a weight-savings initiative involving the unibody chassis, fuel system, seat frames, brakes, interior trim and exhaust system that cut a total of 110 lb. off the new model versus the old. Depending on if you get the 5-speed manual or the CVT (available with steering wheel shift paddles), the Impreza's center differential will either be a viscous coupling or an electronically managed clutch-type, respectively; both have a torque split of 50/50 front to rear and can transfer 100 percent of available torque to either set of wheels under slippage.
More Than Just a New Engine

Lightness and quickness are not all that the new Impreza has gained—the interior feels wider and more spacious, with a nice bump in the quality department.
....read more